MORE
Great Neck Public Library
About This Project
Location:Great Neck, NY
Completion Date:2016
Awards:AIA WHV High Honor Award
The Great Neck Public Library main branch facility was transformed—generally within the footprint of the existing building—into a flexible 21st Century Library. The overall project goal for the renovation of the original 1970's building was to create a more open, user friendly and inviting environment throughout the library, while utilizing views of Udall Pond. To accomplish this goal, the design solution relocated and reconfigured a number of library functions and spaces in order to better facilitate the library's programming.
The initial phase of the design process explored several design solutions based on the detailed design program developed by the community based Building Advisory Committee. The selected solution reconfigured the main entry, created a larger and more accessible Community Room, converted space for books into areas for patrons, relocated and expanded the Children's area and improved the buildings systems and infrastructure.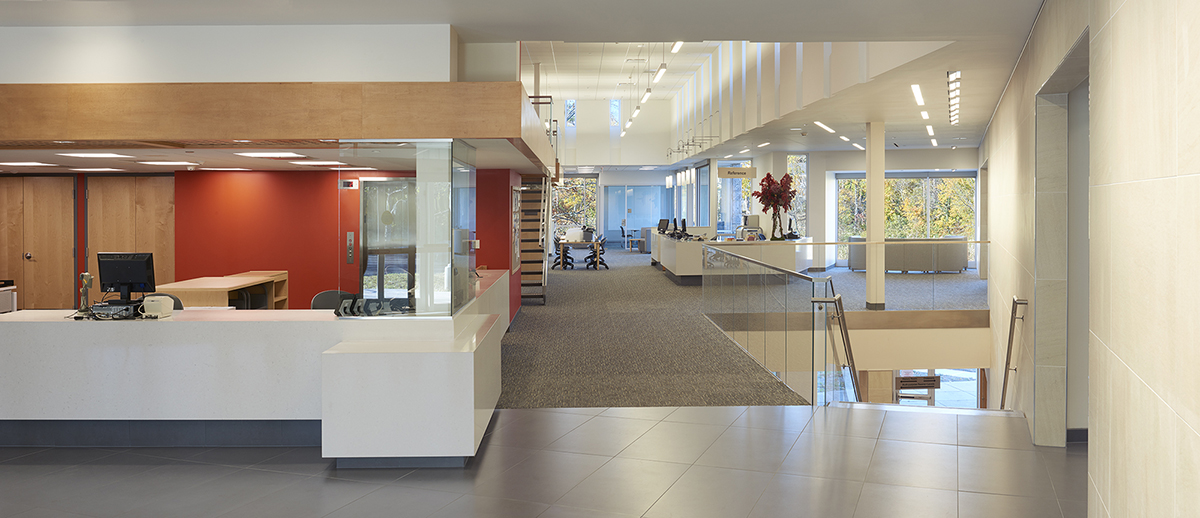 The new entry sequence draws visitors into the Library and provides customer service points along a new diagonal pathway, which is defined by a contiguous stonewall that begins at the entry exterior and is carried through to the rear of the facility to a new soft seating, gathering area that overlooks the pond. In addition to utilizing views of the pond, the entry sequence also features light wells that provide natural light through the center of the facility. The new center staircase, centrally located along the diagonal feature wall, improves the connection between the upper and lower levels of the library.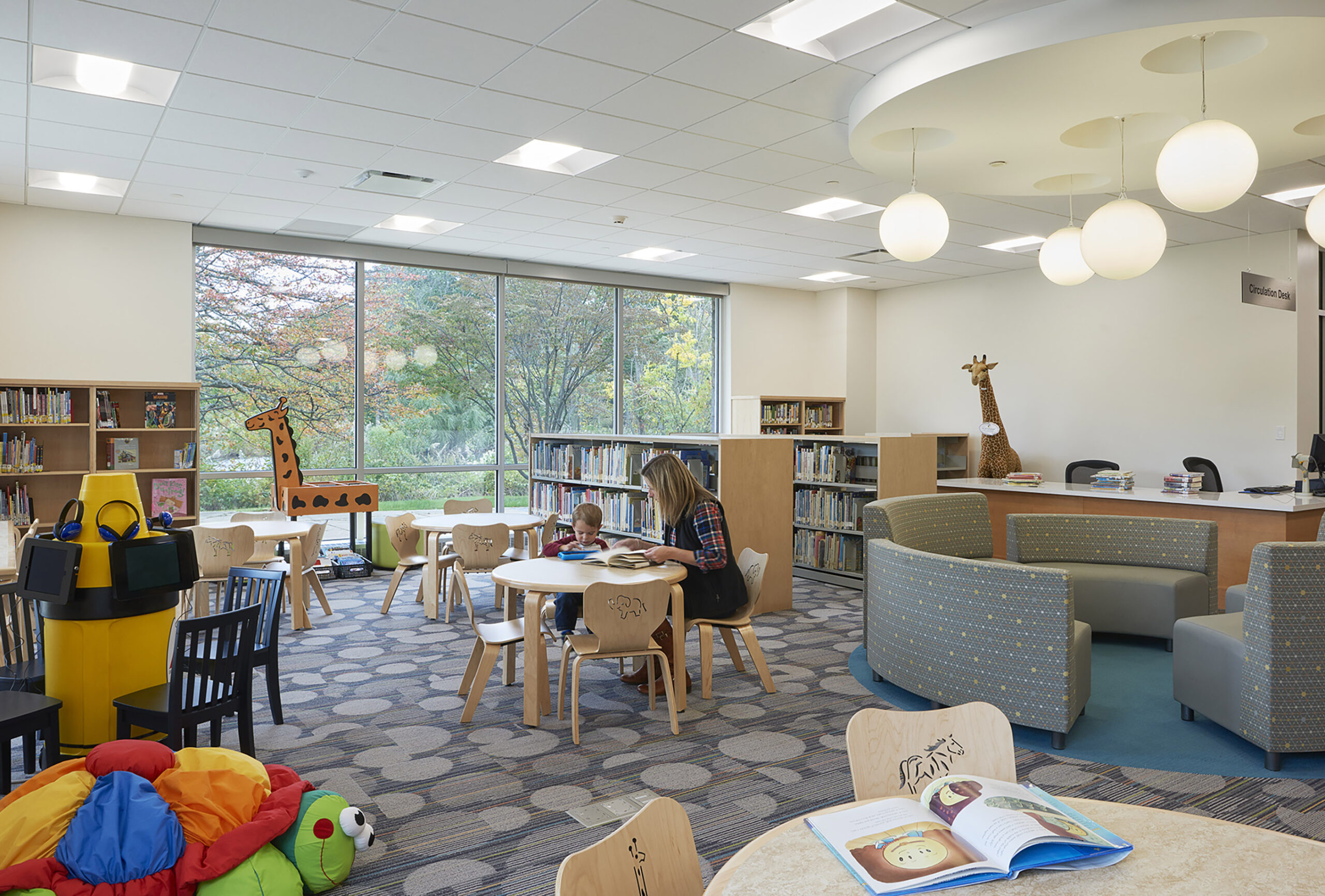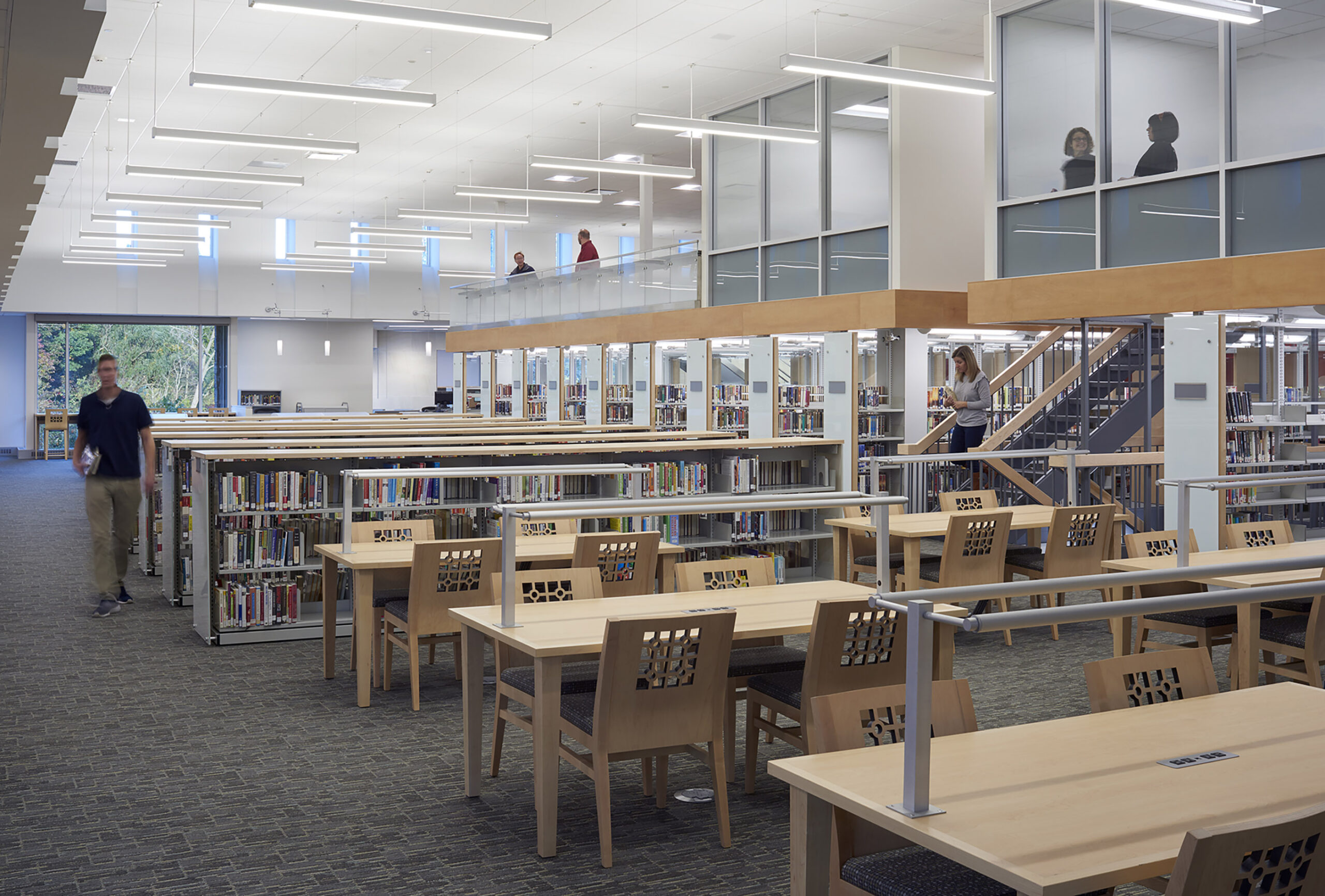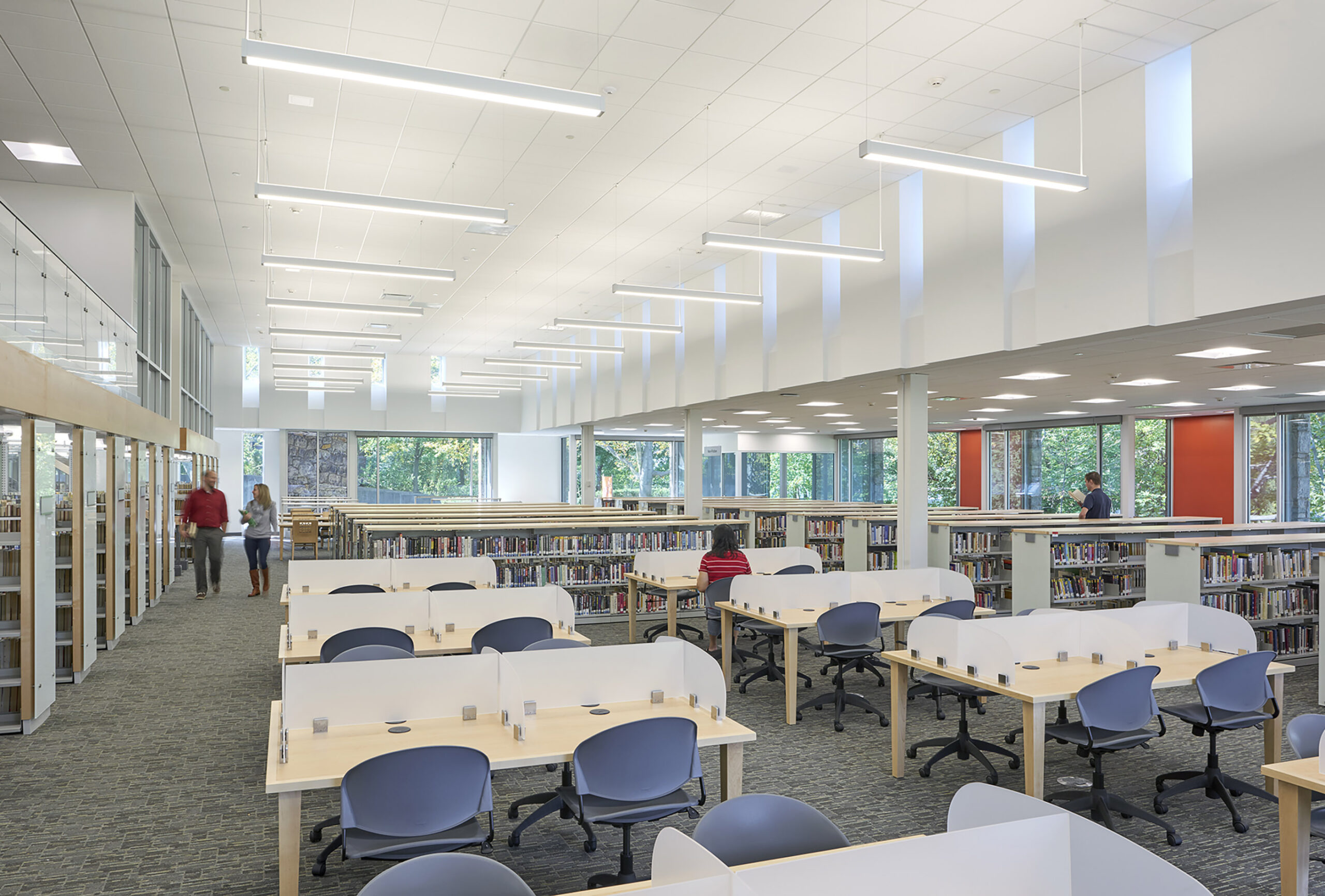 The lower level of the library features a new multipurpose gallery space for large or small group gatherings and meetings, the relocated Children's Area and the teen center. The lower level also has a dedicated entrance from the parking area for stroller accessibility, access to outdoor space including an educational garden, its own circulation desk and a variety of spaces to accommodate a range of children's programs. The Children's Area includes small group gathering spaces, technology stations, soft seating, flexible furniture at varying heights and separate spaces for organized classes or programs. The library's existing teen center, Levels, was also renovated to include a large stage and stepped seating for presentations and performances.
On the main floor, prioritizing the collection and utilizing remote or high-density shelving allowed the team to create more work stations, meeting spaces and reading areas for the library's patrons. These spaces include large and small conference rooms, soft seating areas and desk height and counter height tables and seating. Staff and technical service areas were also consolidated and relocated to the mezzanine level, which allowed for the creation of a larger and more accessible Community Room with live broadcast capabilities. The new Community Room is located directly adjacent to the front entry so that it could be more easily accessible and better utilized for community events, children's programs and various public gatherings.